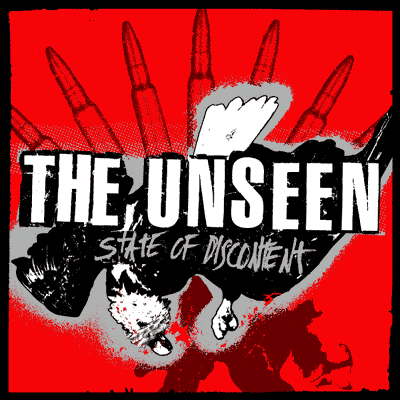 The Unseen "State Of Discontent" CD
Tracklisting
On The Other Side
Scream Out
The End Is Near
Weapons Of Mass Deception
You Can Never Go Home
Dead Weight Falls
Force Fed
Social Damage
Waste Of Time
Hit And Run
We Are All That We Have
Flames Have Destroyed
Final Execution (Armageddon)
Paint
In 2005, The Unseen signed to Hellcat Records and released State of Discontent, an aggressively raw album with stains of political discontent. Following the release the group added long time friend and guitarist Jonny for an additional punch to the band's already hostile sound. After opening for bands such as Tiger Army and Rancid in the US and Europe to support the album, the band launched a full-blown headlining tour of the US.
This album was produced by Ken Casey of the Dropkick Murphys and mixed by Bad Religion's own Brett Gurewitz. Mark had this to say: "Well once we were done tracking the album we ran into mixing troubles. The next thing I know Brett said he would do it for us. We all grew up listing to Bad Religion and when Brett said he was interested we jumped at the chance to work with him. It was mind-blowing to sit in the studio with not only one of our idols but also the man who mixes most Rancid and Bad Religion albums."

The album consists of 14 tracks and features guest vocals by Lars Frederiksen of Rancid and Dicky Barret of the Mighty Mighty Bosstones.